Art Debut: "The Colors of Life" and Inspiration
Aug 21, 2018
(At the bottom of this article, there's a fun,
time-lapse video of me creating this piece.)
I'm excited to debut my newest pieces, "The Colors of Life, Autumn"!

What's your inspiration? How did you come up with your style?
These are questions commonly asked of artists. The answer is usually something like: "Over the course of my life and in one minute."
Ideas rarely spring from the tree of inspiration fully formed. Rather, like a sweet summer nectarine, a blossom of inspiration slowly grows and fruits. Then one day, it's suddenly and magically ripe.
I do get flashes of inspiration that burst forth and seem fully formed. But . . . when I look back, the ah-ha moment is usually after I've had all the elements stirring around in my mind for a while.
The magic comes from the sudden, explosive fusion of disparate ideas. Follow-on magic happens if I reach a sate where I'm "in the flow" and I just intuitively know how to create the effect I want, even if I've never done it before.
There's a delicate balance, though. When I'm in the flow, I don't want to break it. I know I should write down what I'm doing so I can reproduce it, but at the time, it seems so obvious, and sometimes later, it really isn't!
If your work or a hobby requires any creativity, you probably know what I'm talking about. Sudden inspiration and the in-the-flow mojo are amazing states to experience.
For my newest art series, "The Colors of Life, Autumn," I experienced all those elements of creation. This new series builds on my "Be Leaf" pieces, which are two of my favorite creations for art that's simple, beautiful, and elegant. "The Color of Life" has now replaced them as my favorite in that category.
So how did this style and idea develop? From my experiences with creating "Be Leaf" and my petroglyph pieces, I knew I had reached the limit of how high I could take my relief with the techniques and materials I had developed on my own.
When I had the opportunity to take several classes from master artist (and now dear friend) Ellie Ellis, I jumped at the chance. From Ellie, I learned how to take my low relief and go much higher, into true high or "alto relief," where figures literally come off the canvas towards you.
After the classes, I wanted to revisit "Be Leaf" and create a piece with the same characteristics, but this time in alto relief with the leaves jumping off the canvas. (That was the "one minute" part of how I came up with the idea.)
The slower part of the process developed over time, working on different projects, which gave me ideas for different compositions, using different techniques, and materials. Watching the progression of style and technique from one piece to the next over years reveals how any artist develops their signature styles.
Here's a fun image that shows the progress of my ideas and techniques: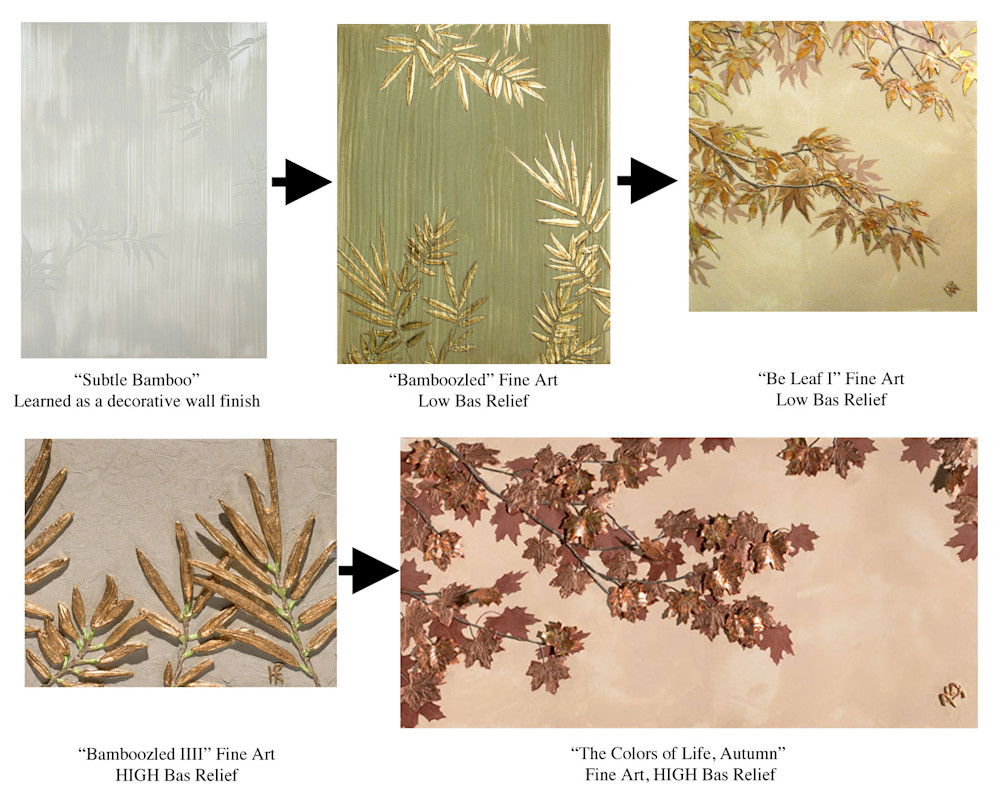 Progression of style & ideas.
So what's different about "The Colors of Life, Autumn?" It's all about that 3rd layer of alto leaves, and the branches and twigs. Take a look again at the large image at the start of this article. You can see fantastic shadows created by those alto leaves. I promise I didn't tromp l'oeil those shadows in! (Not to be confused with the background leaves I did paint in.)
I used cake decorating tools to pipe in the branches and twigs, using different icing tips for the different sizes, for example larger branches verses leaf stems – which I have to say is super fun. With this technique, the branches come out rounded and dimensional, and I can go back in after they're on the canvas and add texture.
For the leaves, I carved five different shapes out of clay, and then I made molds from them. I cast new leaves from a hard plaster, but because the molds aren't perfect and because I'm still learning the best way to sculpt for molds, each leaf is unique because I've had to carve away excess material.
I primed each leaf with a special red gilding primer called bole, and then gilded them with variegated copper. I affixed the leaves to the canvas using a tile adhesive. From there, the final work is finishing details, cleaning up gilding, painting branches, and covering adhesive with plaster. Easy peezy, right?
Then there was the name. I couldn't think of anything for a long time and just referred to the main piece as "Be Leaf Grande." The day came when I needed to put the photos on my website, and still no name.
I sat down with my son to watch an episode of "One Strange Rock," which has a lot of interviews with current and former astronauts. One of the astronauts said he looked out the window down to the earth as saw all "The Colors of Life," and bingo! In that one moment, I knew I not only had the title of this three-piece series, but 3 more series for a "Colors of Life" collection to come: Spring, Summer, and Winter.
Magic.