About the Art: "Be Leaf I & II"
May 01, 2018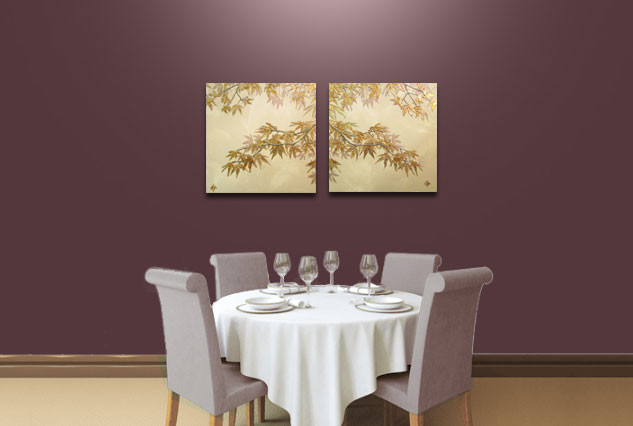 "Be Leaf I & II," prints of gilded, bas relief fine art.
Sometimes it's difficult to trace the origins of an idea.
I distinctly remember the moment I decided to create "Be Leaf I." The primary gallery where my work hangs was holding a competition. The only qualifier was that the art be 12" x 12".
The gallery manager asked if I would participate. Since it was the first year of the competition, she was concerned there wouldn't be many pieces entered.
I didn't have anything in those dimensions, but I had enough time to create something specifically for her. As it turns out, she needn't have worried; there were MANY pieces entered.
But how did I choose this particular subject and style? That's what I don't remember clearly. I think it went something like this . . .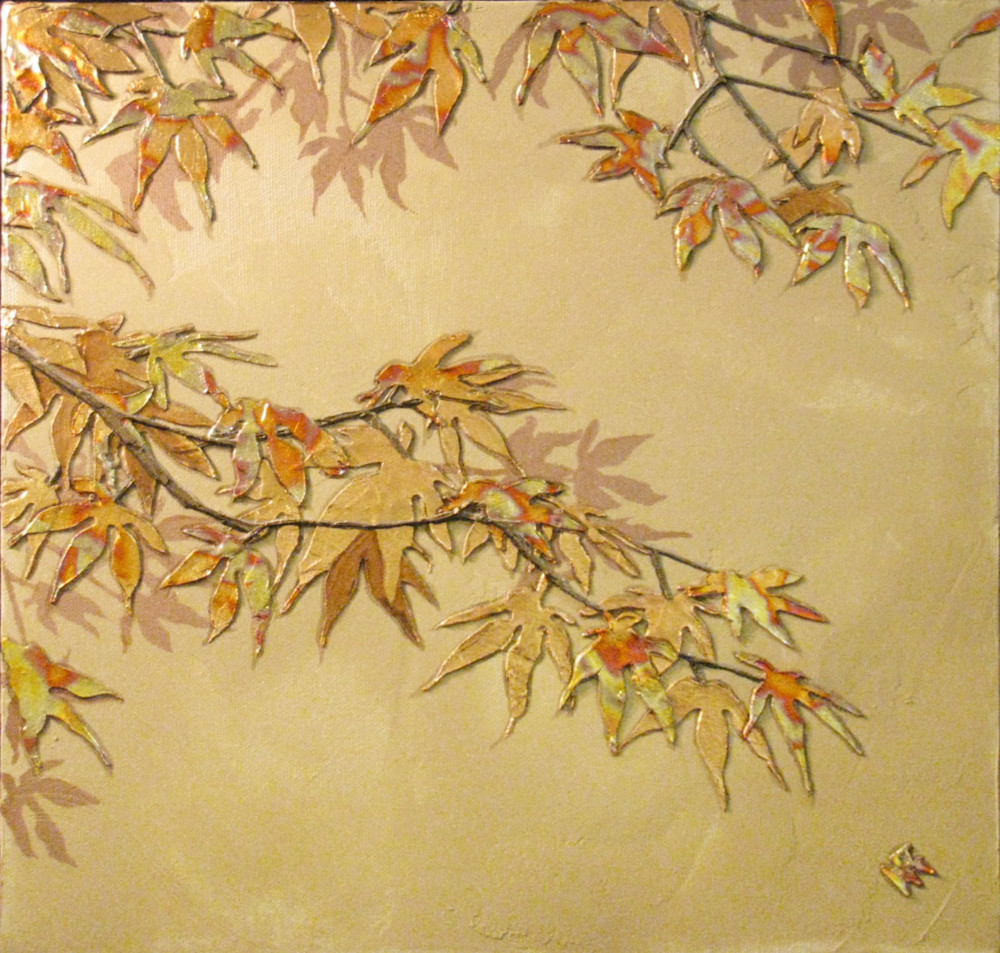 Close up "Be Leaf I"
I didn't want to create a petroglyph piece. I love my petroglyphs, but getting a positive reaction from the general public (as opposed to my history buff followers) is hit or miss.
Previously, I had created and sold "Bamboozled I," and I knew it was a popular image. I could expand on the plant/leaf theme. We have California maples in our forest, and maples leaves are hugely popular across cultures from Japanese maples, to the Canadian flag, and to our East coast woodlands popular with leaf-peepers.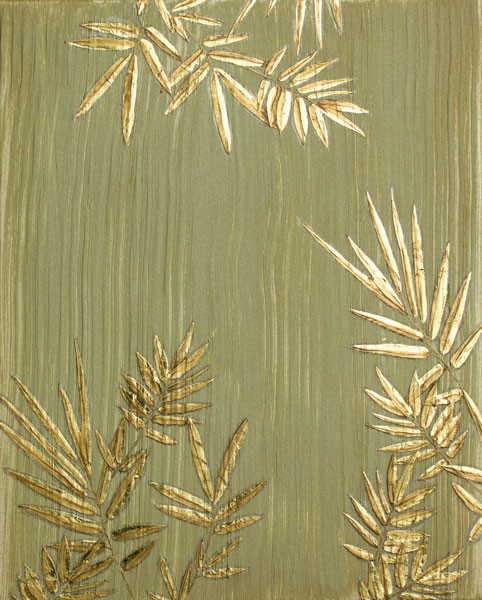 "Bamboozled I"
But the gold leaf I used to gild "Bamboozled I" didn't suite the dynamic and wild color of fall maples. Knowing this tickled an idea.
My gilding vendor carries all types of gilding leaf, not just gold. Copper leaf was a closer match to what I wanted . . . but still not quite there. When I was browsing online, I discovered variegated leaf with wild and amazing fluidity of color. Bingo!
As to the actual composition, the background is a beautiful metallic parchment to signify the aging and yellowing of leaves. To create a sense of depth I created a layer of painted leaves in a pale copper to emulate the fading of colors with distance.
The mid-ground leaves and foreground leaves are low bas relief ¬with the leaves raised above the background. I gilded the mid-ground leaves with a standard copper leaf.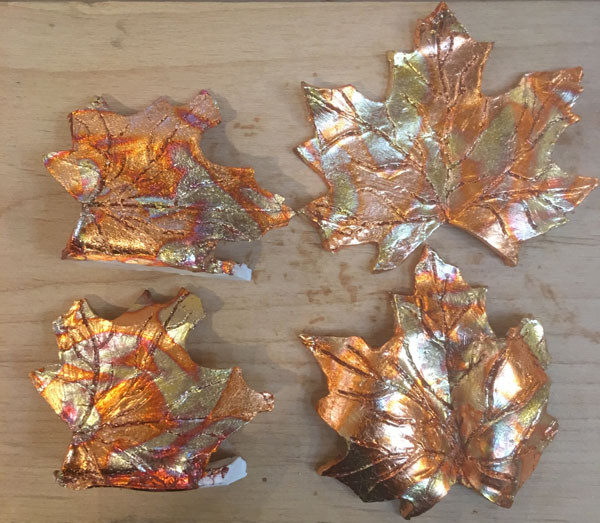 Plaster-cast maple leaves (for a new piece I'm working on)
covered in variegated copper leaf.
The foreground leaves pop with the variegated copper. And in amongst the leaves, I wove the branches and twigs that appear and disappear above and behind the leaves.
And what of the competition? "Be Leaf I" won the Staff Pick Award out of 80 or so entrants; later, it went on to be shown in The Nature and Wildlife Exhibit at The St. Augustine Art Association.
I also love diptychs, and the design of the branches in "Be Leaf I" created a wonderful opportunity for a mirror image in "Be Leaf II."
Over the year or so the two pieces hung together in the gallery, I had several offers to purchase them, but the offers were always below the asking price. I already try to keep my art pieces affordably priced, so I declined.
Last fall I participated in an art show in Capitola, CA and my mother popped in to say hello and to support me. Being a fall-colors kind of person, she ended up buying both "Be Leaf I & II!"
Lucky for her she came in when she did; I had someone interested in the pieces after she left. And lucky for me; I get to see my work whenever I visit her.
If you enjoy these pieces, prints are available in a range of print mediums and a wide range of sizes.