A Few of My Favorite [Old] Things . . .
Mar 06, 2018
The catch of your fingers over spider-web thin cracks on a china teacup.
The slight, musty odor of an old book. The delicate yellow patina of age on hand-embroidered linen.
"These are a few of my favorite [old] things . . ."
I have a passion for art that looks old or ancient, which is the drive behind my Roman Mosaics series and Petroglyph series.
Today, I'm sharing with you a technique for making furniture or walls look artfully aged, which is especially appropriate for those of us with home styles that cultivate a vintage look, including Mediterranean, Spanish-style, farm house, colonial, Victorian, cabin-style, and many more.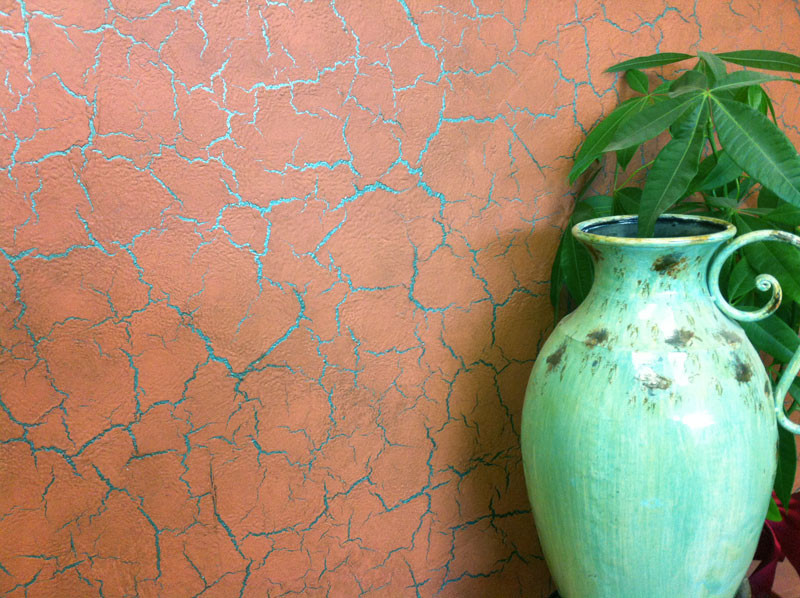 A stunning metallic paint and crackle plaster finish I created for a
showroom wall. The colors and finish bridge a modern look
with an antiquated feel.
Despite the many vintage home décor stores, they can't carry everything we might like. So how do you bring something new into your vintage home without it looking out of place?
Crackle finishes are one of my favorites because they make any surface look like they have a history.
Crackling is a classic decorative technique that can be used with both paint and plaster to make anything look artfully timeworn. Crackling is also commonly used to make new paintings look old.
An artist acquaintance of mine was commissioned to create Old World style portraits for a European hotel. What was one of the techniques he used in creating an aged look? You got it. He created a china crackle in the paint that made it look like the portraits had been hanging for hundreds of years.
I recently completed a small commission to refinish a little side table.
The table was going into a Mediterranean style house in a room with warm cream and dark brown colors. The terracotta color in the original finish clashed with the color scheme, so my client asked me to refinish the table to match.
I sanded and primed the table, and applied the crackle glue.
Here's a fun time lapse video of me apply the top paint coat (over the clear crackle glue). Towards the end of the video after I put down the sprayer, you can literally see the cracks growing on the table.
After the crackle paint coat dried, I sealed the entire surface.
While crackling is one of my favorite techniques, there are others that can add an air of history to a home. Interested? Give me a call or drop me an email and we can brainstorm. Interested in my faux finishing?